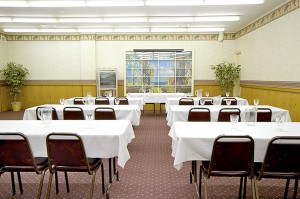 The Elkins Inn and Suites features conference and meeting facilities that seat up to 120 people in the Courtyard Room ( with a dance floor) or choose the Club Room which seats 45 (pictured to the left).
These two rooms are accessible to a serving room for catered events.
Ample parking, Wifi in the area, easy access, beautiful décor make these rooms ideas choice for training sessions, regular meeting, anniversary parties, weddings and receptions. To book your event call 304-637-4667.
Enjoy the hospitality under the moon at Elkins Inn & Suites hotel, located on Highway 92- Harrison Ave. with easy accessibility to all Routes serving Elkins.